I don't know about everyone else, but for me this week has been exceptionally long! I was so happy to wake up this morning knowing the weekend is only a few hours away! This weekend I am doing my 6 mile walk for Cystic Fibrosis!! Wish me luck!! Hope you all have a fabulous weekend!!
And don't forget to join in the New Friend Fun over at
The Girl Creative!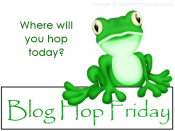 And of course, my old favorite, Friday Follow from
One 2 Try
!