Friday is finally here! This week is kind of like a blur. It feels like my daughter's birthday was weeks ago... but it was on Monday! I think the week went screwy for me on Wednesday because I had jury duty. It seemed like time stopped while I was in that court house. So I am defintitely ready for the long weekend!!
Do you have any fun plans for Memorial Day weekend? My parents live on a lake so we are going to head over there for a BBQ and some water fun! Then we are hoping to be able to set up "baby beach" at home on either Sunday or Monday. The weather is supposed to be great!! So we'll break out the baby pool and beach chairs and just relax! We don't do that often enough!!
As usual, I have some lovely bloggers who are hosting blog hops! Yay! I love blog hops. New followers for me and new blogs for me to follow!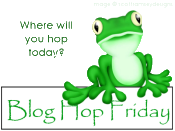 So hop on over to My Life as a New Mom to join in the fun!
And go see The Girl Creative if you want to meet some new friends!
And while you're here.. be sure to check out all my fabulous giveaways!!
We are nearing the end of the Birthday Celebration...
Sunday will be the last day!!
Such awesome giveaways... you don't want to miss a thing!!!